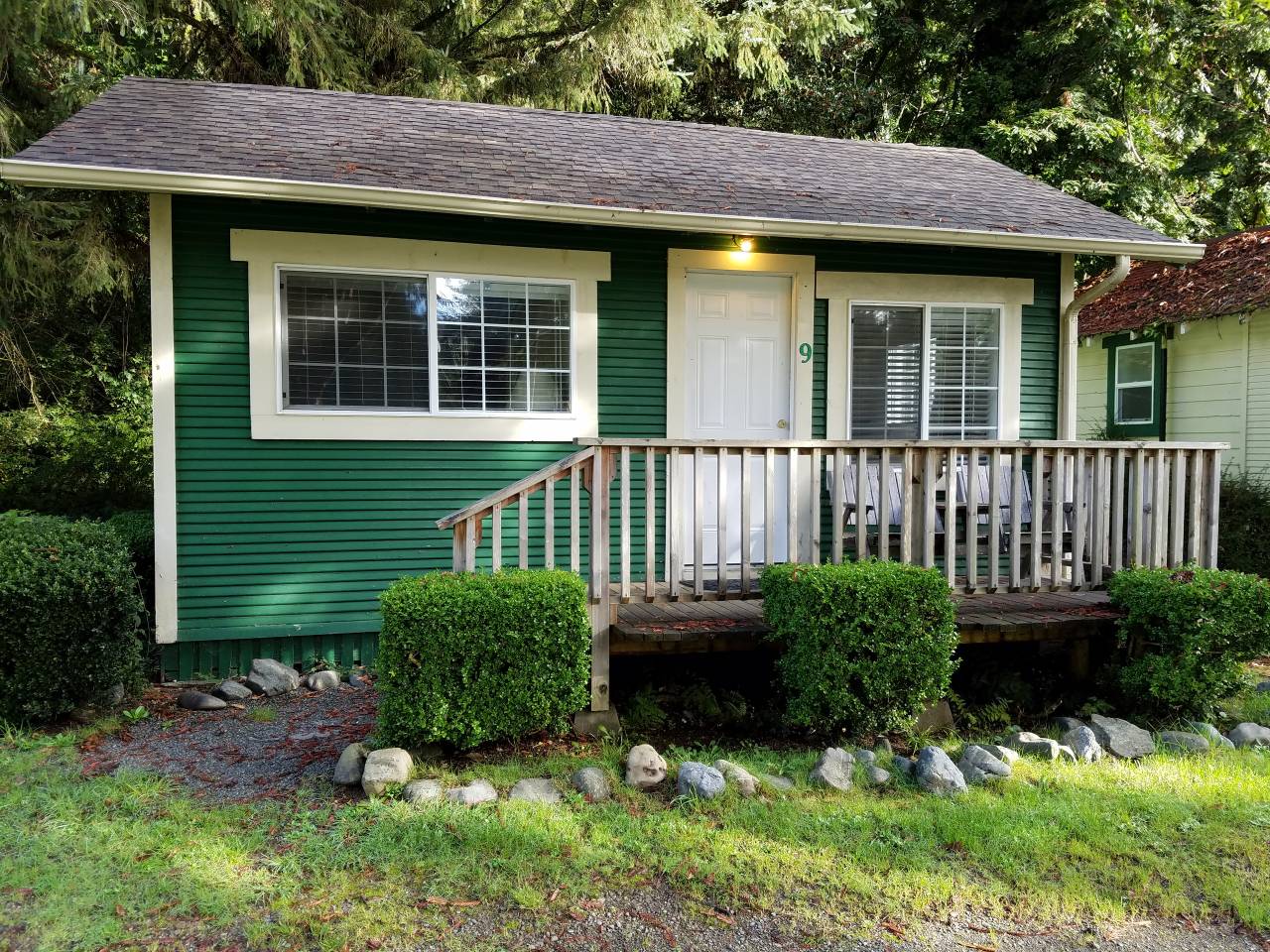 Our cabins are all non-smoking and have been renovated , complete with new beds, bedding, curtains, carpets, etc. Our Cabins were buitl in the eary 40's, so please don't expect that new Condo look.
All of our Cabins are Clean, Warm and Cozy.
Rates for all of the Cabins are based on Double Occupancy, most Cabins will sleep more however. Each additional person will be charged at the rate of $10.00 per person per night. Kids 2 and under Stay for Free.
All Cabins have Free Movie Rentals as well as Dish TV.
All cabins have their own linens and Private Bathrooms with showers. Cabins with kitchens come complete with utensils.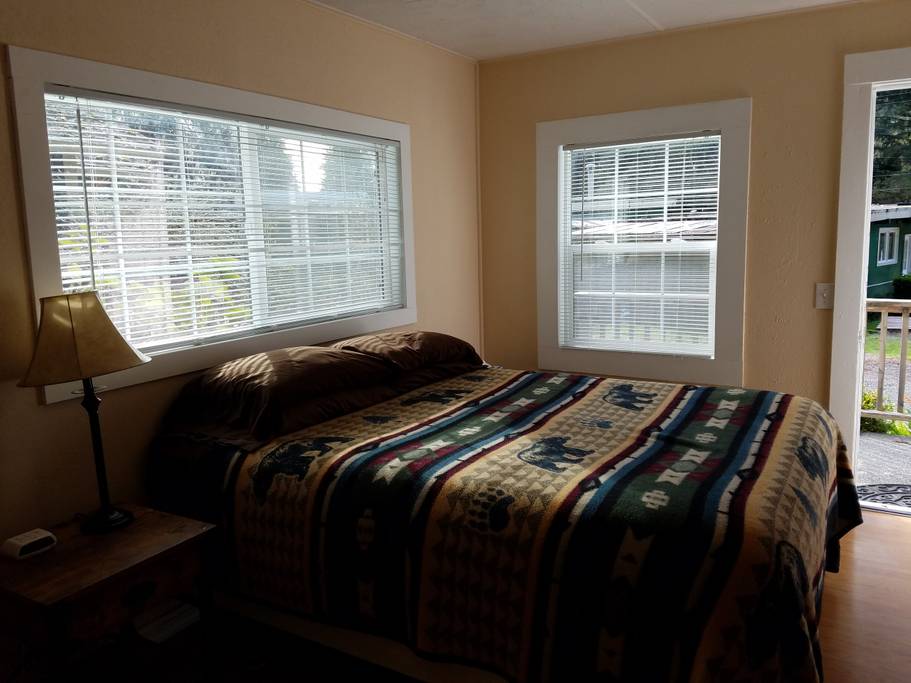 Well behaved dogs are welcome with an additional one time fee of $20.00 per dog per stay. $30 for 2 dogs per stay. Dogs are not allowed on furniture and can only be in the cabin if you are. We recommend you bring your dog's bed.
All cabin rates are subject to an 8% CA Hotel tax
Woodland Villa Cabins & Country Market is located on 8 acres on Highway 101, just ½ mile South from the world famous Trees of Mystery, where the Klamath River meets the Pacific Ocean in the Heart of the Redwood Forest. Woodland Villa Country Market has a full-service Deli with hot and cold foods and offers a full range of grocery items. Try our new homemade Pizza! We are open 7 days per week.
Klamath offers an incredible array of natures delights including hiking trails, fishing, (river, lake, stream or ocean), boating, bird watching, blackberry picking, beach combing, whale watching or just sitting and watching the world go "Bye".
Woodland Villa Country Cabins is a small Resort and cancellations affect us significantly. If your Guaranteed booking is being made more than 30 days in advance of your arrival, your Guaranteed Reservation has been or will be secured with an advanced payment of one night's stay or 50% of your booking, whichever is greater. The balance of your Guaranteed booking will be charged to your credit card upon arrival or by 3:00 PM on the arrival booking date, whichever is earlier . Cancellations made up to two weeks ( 14 days ) prior to your arrival will result in a Full Refund of your advanced payment. Cancellations made in the two weeks ( 13 days )prior to your arrival will result in forfeiture of your advanced payment for days which are not re-rented. Should you NOT CANCEL AT ALL within the time periods stated above and by means of a phone call, postal letter, fax or e-mail you will be charged for the entire booked stay, as we cannot not attempt to re-rent the cabin pending your Guaranteed arrival. Should it be necessary for you to depart earlier than your confirmed date, you will be responsible for the full amount of the intended booked stay unless we are able to book all the remaining nights. Your room charge includes a non-refundable $25.00 administrative processing fee.
Check-in is between 3:00 PM and 6:30 PM. Check-in is anytime after 3:00 pm at the Restaurant and Market. If you arrive after we are closed please know that the key will be under the mat of your Cabin. If you have any questions or concerns, we have a Night Manager in Cabin A. Arrangements must be made for late arrivals.
• Checkout time is at 11:00 AM. If an extension of these times is required, please let us know as soon as possible. We will use our best efforts to accommodate you.